Kidney & Urology Foundation of America (KUFA), a non-profit, 501 (c ) ( 3 ) health organization, is dedicated to helping individuals with kidney and urologic problems and those waiting for organ and tissue transplants. Kidney disease in this country has reached epidemic proportions. Nearly one half million Americans have irreversible kidney failure and need dialysis or a kidney transplant to stay alive. Urologic problems, including prostate cancer, kidney stones, and urinary tract infections, account for millions of physician and hospital visits each year. KUFA focuses on the care and support of the patient, the concerns of those at risk, education for the community & medical professionals, methods of prevention, and improved treatment options.
WHAT SETS US APART?
We are all about you!
The Kidney & Urology Foundation of America is a phone call or e-mail click away from getting you the help you need to cope with a new diagnosis, a resource for valuable information on kidney or urologic diseases, a window into current research treatment options or a link to a physician should you need one.
152 Madison Avenue, Suite 201 New York, NY 10016
Tel: 212-629-9770
Fax: 212-629-5652
Email Editor@kidneyurology.org
Web: www.kidneyurology.org
Editorial Director: Carol Brower
Editorial Manager: Heather Reel
*The Kidney & Urology Foundation of America, Inc. (KUFA) has received permission from Lippincott, Williams & Wilkins (LWW) Publishers to use the exquisite photograph of a normal adult kidney lobule prepared by Elizabeth Cuzzort for Jean Oliver's 1939 book, "Architecture of the Kidney in Chromic Bright's Disease". This book was originally published by Hoeber, the Medical Division of Harper & Row Publishers; LWW now publishes all of Harper & Row's medical titles.
Greetings and welcome to the Summer 2010 issue of Kidney & Urology Foundation of America's E-Newsletter, PERSPECTIVES. We are pleased to bring you current information on happenings in the world of nephrology, urology, transplantation and the greater fight against kidney and urologic diseases, as well as updates on Foundation events and programs. We'd also like to give YOU the opportunity to make your PERSPECTIVE heard. Please send comments or letters to editor@kidneyurology.org or mail us your stories with photos to: Kidney & Urology Foundation of America, 152 Madison Avenue, Suite 201, New York, NY 10016, Attn: Perspectives. Original documents will not be returned. Please limit your e-mail to 100 words. Only signed letters will be published.
---
KUFA announces $75,000 research grant
Following the recommendations of the steering committee of KUFA's Scientific Advisory Council, KUFA announced a grant opportunity for a multi-center clinical or basic scientific research project for academic year 2010-2011 for pediatric and adult nephrology, urology, and transplantation in the NY/NJ/CT region. Applications were peer reviewed by members of the Scientific Advisory Council, led by Dr. Jonathan Winston, and we are proud to announce that Richard Lee, MD, Weill Medical College of Cornell University, Department of Urology, is being awarded the KUFA Fellowship for his study of 'Development of nanoparticle-mediated microwave thermotherapy for treatment of prostate cancer.' Dr. Lee joins a select group of researchers who have received support from KUFA in pursuit of our mission to add to the understanding of renal and urologic diseases and to foster groundbreaking research toward new and more effective treatments for these diseases. Thousands of individuals support KUFA each year. Their generosity contributed to our ability to fund this grant program. Congratulations, Dr. Lee! READ MORE



---
KUFA supports the 15th Congress of the International Pediatric Nephrology Association
The International Pediatric Nephrology Association (IPNA) is comprised of 1,500 pediatric nephrologists and relevant professionals representing 89 countries around the world, dedicated to promote the optimal care of children with kidney disease worldwide by advocacy, education and training. Every three years, IPNA has an international scientific Congress whose goals are to bring together the world's pediatric nephrology scientific community in order to review advances in the prevention and treatment of kidney disease. The Congress will be held in NYC from August 29- September 2, 2010.

Congress President is Frederick Kaskel, MD, PhD, Children's Hospital at Montefiore, Albert Einstein College of Medicine, Bronx, NY, USA. Dr. Kaskel is Chair of KUFA's Council of Pediatric Nephrology & Urology.


---
KUFA Happenings
Register online now for Halloween Walk! On Sunday morning, October 31, walk with us in Central Park in New York City and help to save lives in the process. Our annual WALK the WALK is a fun and healthful way to highlight the importance of organ and tissue donation and how easy it is to become a donor. The money we raise will go towards research initiatives, patient services, and public and professional education. Thank you to all of the walkers, sponsors and volunteers that helped to make last year's WALK such a success! It couldn't have been done without you!
Congratulations to Our All American Car Campaign Winner

The 2010 winner of the All American Car Campaign is Evan Bloom, pictured here (right) with his grandfather, Bill Bloom, a transplant recipient and former KUFA Man of the Year. Through Evan's generosity of spirit, he donated his $10,000 prize back to the Kidney & Urology Foundation. "It's my pleasure" said Evan, "to make a donation to the foundation that helped save my grandfather's life." The winning ticket number was 109844. Thank you to our All American Car Campaign participants!
Fall 2010: The Winning Spirit - A Celebration of Excellence: Co-Chaired by Governor Mario M. Cuomo & Mrs. Matilda Cuomo

On Wednesday, September 29th 2010, KUFA will proudly honor:

Peter N. Schlegel, M.D., F.A.C.S., Professor and Chairman of Urology at The Weill Medical College of Cornell University. He is Urologist-in-Chief and an Attending Urologist at The New York Presbyterian Hospital. Dr. Schlegel will receive the John Kingsley Lattimer Award for his excellence in patient care and for a lifetime of dedication and achievement in Urology.

Joseph A. Spinelli, Co-Founder and COO of Daylight Forensic & Advisory, is a leading authority on white-collar crime with more than 30 years of forensic experience. He was recently appointed by Governor Paterson of New York to the New York State Commission on Public Integrity. Mr. Spinelli will receive the "Man of the Year" Award for his untiring efforts on behalf of all those with urologic and kidney diseases. READ MORE
Patient Programs
KUFA Patient Scholarships and Awards:
The KUFA Scholarship Review Committee, comprised of dedicated renal social workers, educators, nurses, child life specialists and transplant coordinators, has received a record number of applications this year: over 100 applications were submitted from across the country for the Kidney & Urology Foundation Scholarship Award, New Day Education & Rehabilitation Award, Bright Star Recognition Award, the Covelli Family Achievement Award and our newly established award opportunity for healthcare facilities, The Quality of Life Grant. KUFA's Review Committee convened at the Foundation's NY office on July 21st to make final recommendations for the 2010-2011 academic year award recipients. Award recipients will be announced in the coming weeks. Last year, KUFA was proud to support 42 patient and family awards.

KUFA welcomes sponsors to support a deserving student for up to four years of their academic career through our Naming Opportunity program. We thank The Blum Family Foundation for supporting KUFA Scholarship recipient Nicole Alman, in memory of Kenneth Blum, Sr.
Education
Transplantation in the USA: The Shortage of Available Organs
and Public Health Policy
Jonathan A. Winston, MD, Conference Chair

On April 19, 2010 KUFA hosted a conference at the Paley Center for Media, to reveal issues surrounding the shortage of organs available for transplantation in the U.S., and to explore solutions. "My hope is that by publically acknowledging the depth of this problem, we can reach the people who can create change," said the panel's moderator and conference chair, Dr. Jonathan A. Winston, Associate Professor of Medicine/Nephrology at Mount Sinai School of Medicine. Dr. Winston heads KUFA's Scientific Advisory Council. "Right now, many patients and practitioners feel that they're invisible and bogged down in the current system. We want these people to know that their problems are being recognized and that we're working to develop realistic solutions." READ MORE

Empowering the Renal Professional to Meet Change and
Challenges in Patient Care Today
Erin Lauinger, LMSW and Aaron Battle, Conference Co-Chairs

On Thursday, June 10, 2010, nearly 200 allied renal professionals attended Empowering the Renal Professional to Meet Change and Challenges in Patient Care Today at the New York Hall of Science, in Queens, NY. This conference, intended for renal administrators, nurses, social workers, transplant coordinators, dietitians, technicians, and allied health professionals who care for the adult or pediatric renal and transplant patient, was hosted by KUFA and a multidisciplinary planning committee of 30 renal healthcare professionals. Erin Lauinger, Pediatric Social Worker from Children's Hospital at Montefiore, and Aaron Battle, Patient Services Coordinator at IPRO ESRD Network of New York, served as Co-Chairs and program moderators.

Leading authorities on the allied renal healthcare team, physicians, researchers, policy experts, and other thought leaders were called upon to present the latest information on best practices in renal care and to provide tools to empower the renal and transplant healthcare professional on the front-line of patient care today.

This activity was supported by an educational donation provided by Amgen, an educational grant from Genzyme, and funding from American Access Care, Novartis, and a new educational partner: Pentec Health.
READ MORE


---
KUFA announces launch of a new online support and discussion community in collaboration with Inspire.com
You are invited to join KUFA's new interactive online support forum at http://kidneyurology.inspire.com. Join members of the kidney, urology and transplant communities and participate in group discussions, get answers, find coping strategies, & receive support from others who know what you're going through. Registration is free. Members can:
Participate in discussion groups
Post personal profiles – share as much or as little as they'd like about themselves
Post personal photos or videos (optional)
Create a personal journal (or "blog") where they can express their feelings and allow others to comment
Read others' journals to learn about their experiences
Inspire.com provides a safe and secure space to share your particular health concerns and to connect with one another. To learn more and to get started - post your question or start a discussion today at:



http://kidneyurology.inspire.com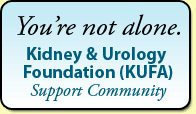 Help KUFA grow our Inspire community and participate in an opportunity to raise essential dollars for KUFA programs. It's very simple. KUFA has signed on for the Inspire Partner Challenge to win a $5,000 donation from Inspire. You can help us win the challenge by signing on by September 29, 2010.
If you have questions or are having difficulty setting up your account, please use the online help form at https://www.inspire.com/help/ or email team@inspire.com.

Currently, there are 425 members on KUFA's Inspire portal.