What Are Probiotics?
You might be wondering what exactly are probiotics? Well, these are simply yeasts and good or helpful live bacteria. We all know the bad effects of bacteria and how they are one of the most prominent causes of diseases, but you would be surprised to know certain types of bacteria can benefit your body.
If your digestive system isn't strong enough, then it's time you consider using probiotics to enhance your digestive health. These probiotics or good bacteria effectively remove all the extra bad bacteria from your body. Not only the digestive system, consuming probiotics positively affects your overall health. They also help to produce vitamins and eliminate disease-causing cells or organisms in the body.
From fermented foods such as yogurt to dietary supplements, all contain probiotics. It's important to note that probiotics are made of different microorganisms. Bacterias from groups such as Lactobacillus and Bifidobacterium are commonly used as probiotics. Even yeasts such as Saccharomyces boulardii can be utilized as probiotics. Also, you should be aware that different varieties of probiotics will have different types of benefits for the body.
How Do They Work?
Probiotics perform a "balancing act" as they knock out the accumulated bad bacteria (cause of sickness), thus ensuring a healthy balance in your body. The main job of these probiotics is to fight the harmful toxic microbes in the gastrointestinal tract.
Health experts all over the world have been searching how probiotics work and how they can promote better health; let's see some of them-
Types of Probiotics
There are a wide variety of probiotics. However, there are two significant groups of probiotics mainly. You will easily find these in your nearby stores. It's worth mentioning here that you must consult your doctor to find out which group of probiotics will work perfectly for you. Let's learn about these two groups in detail.
Lactobacillus
This is the most common type of probiotic. This type of probiotic is generally found in fermented foods such as yogurt. This probiotic can be quite helpful for those suffering from diarrhea, inflammation of the colon, inflammatory bowel disease (IBD), constipation, etc. Besides, Lactobacillus can effectively prevent the common cold, flu, ear infections, or respiratory infections in kids.
Bifidobacterium
Dairy products often contain this probiotic. It can be helpful for conditions such as irritable bowel syndrome (IBS), psoriasis, ulcerative colitis, chronic fatigue syndrome, etc. Not only this, this probiotic has shown positive results for people suffering from cholesterol. Several probiotics contain good or "helpful" yeast, such as Saccharomyces boulardii. This yeast is beneficial for people who suffer from digestive issues or diarrhea, Ulcerative colitis, Irritable bowel syndrome: Crohn's disease, etc.
Checkout Yourbiology. World's Best Probiotic Supplement
Top SEVEN Probiotics for Gut Health
Talking about the health benefits of probiotics is all well and good, but knowing specifically which brand to purchase for your perfect microbiome is what's important. So below, we've written about the seven best brands of probiotic supplements for men.
We've gone through customer reviews, researched information on the company websites, and even shopped around at retail stores—just to be sure that our recommended brands are meeting the needs of their customers. So without further ado, here are the seven best brands of probiotics…
1) Yourbiology Gut: Best Probiotics Overall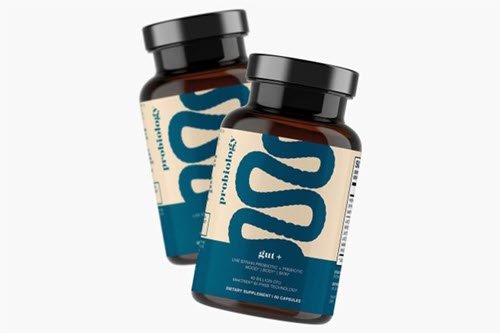 The wide range of beneficial properties and extremely potent amount of beneficial bacteria make this one of the best probiotics currently on the market. This probiotic is specially created for women. Interestingly, women have created it only to enhance gut health.
The best thing which will make you fall in love with this probiotic is that it is 100% preservative free, which means it does not contain any kind of chemicals or additives that can be harmful to your body. It's easily digestible and comes in two delicious flavors; it's tested and formulated by doctors and backed by dozens of user testimonials.
It is made out of natural ingredients and is a gluten-free, Non-GMO formula. Another thing to be noted is that Yourbiology Gut has a capsule form which is quite convenient for consumers. It comprises four live strains.
Yourbiology Gut+ contains species of lactobacilli and bifidobacteria known to help improve gut health, but it also contains several unique species. It's a great choice for those looking for a diverse microbiome builder.
Pros
Cons
2) Biotics 8 – The Best Probiotics For Men
Biotics 8 is one of the best probiotics for men out there. It makes an excellent choice for most men looking for a daily probiotic to help keep their digestive system in check and their immune system strong and impenetrable. This formula contains eight different strains studied and given medical recognition for their probiotic benefits.
These strains include Lactobacillus acidophilus, 2X108 CFU; Lactobacillus casei, 2X105 CFU; Lactobacillus rhamnosus, 4X109 CFU; Bifidobacterium bifidum 3X1010 CFU; Bifidobacterium longum, 1X108 CFU; Lactobacillus Plantarum, 4X108 CFU; Streptococcus thermophilus, 6X1010 CFU. What's more, it boasts a long shelf life of two years, does not require refrigeration, is gluten-free and dairy-free, and is Kosher-certified.
It also boasts a Best Buy guarantee and can be purchased directly from the manufacturer. With all these features, Biotics 8 seems the perfect solution if you're looking for the best probiotic for men's health.
Pros
Cons
3) Elm & Rye Daily Probiotic
Though Elm & Rye is a relatively new name in the industry, it has gained a lot of name recognition for its amazing customer satisfaction. This probiotic comprises only environmentally-friendly pure ingredients. Besides, to ensure that the supplements are highly potent and pure, they are tested by an independent lab.
You can imagine how this brand goes to ensure complete transparency and the happiness of customers. Elm & Rye's probiotics are good not only for your gut health but also for your brain health. It contains Lactobacillus acidophilus as the only active ingredient that will immensely boost your immunity.
The probiotic comes in a capsule, making it convenient to use. Plus, this is a very cost-effective product. Note that it is a clinically tested product; tests revealed that it is instrumental in boosting intestinal, immune, dermatological, and cardiovascular health. Vegetable Magnesium, Stearate Dib, and Gelatin are the inactive ingredients.
After consumption, noticeable results can be experienced in 24 to 48 hours. You don't need to refrigerate it for storage as it maintains its potency even at room temperature. Here's an important thing: if you are an expecting mom or have some medical problems, then consult a professional before buying this dietary supplement.
Pros
Cons
4) Physician's Choice 60 Billion Probiotic
Physician's Choice 60 Billion Probiotic is great if you're looking for an effective product with high numbers of live cultures. It contains 60 billion CFUs per capsule, which makes it one of the highest counts available on the market today! The 60 billion CFU probiotic supplement is a great option for anyone looking to improve their digestive health.
The supplement also contains Saccharomyces boulardii and Bacillus coagulans. These two strains are well-known for their ability to fight off harmful bacteria in the intestines, which makes them a great addition to any wellness regimen. The supplement has a 30-day money-back guarantee. This means you can return it if you're not satisfied within 30 days of your purchase.
Pros
Cons
5) Now Foods Probiotic-10 25 Billion
Now Foods Probiotic-10 25 Billion is a probiotic supplement made with the purest form of bacteria. You can also use it to treat certain skin problems, like acne or eczema. The Now Foods Probiotic-10 25 Billion supplements come in liquid form, which makes them easy to take on the go. You can drink it with water, milk, or any other beverage you prefer.
This probiotic supplement has been tested in clinical studies and has proven effective against constipation, diarrhea, and bloating. It also works well when taken with food because it goes through the digestive system faster than other types of supplements.
Now Foods Probiotic-10 25 Billion is a complete probiotic supplement that contains a blend of 10 different strains of bacteria, including Lactobacillus Acidophilus, Bifidobacteria, and Saccharomyces boulardii. Each capsule has 25 billion live organisms and contains no artificial colors or preservatives.
Pros
Cons
6) The Vitamin Shoppe Probiotic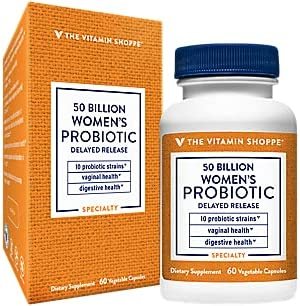 The Vitamin Shoppe Probiotic Complete is a probiotic supplement containing 500 billion live cultures in each capsule. The supplement is designed to help restore your body's natural balance of good bacteria and yeast. This product should be taken daily and not just when you feel like you need it. The vitamin shoppe probiotic comes in various forms, including tablets, capsules, chewable, and liquids.
The product is made in the USA and will help you get the most out of your body and health. It is also formulated with no artificial flavors or colors, making it a safe option for those seeking something free from toxins. You can easily find this product in the vitamin section at your local grocery store or drug store, or you can get it online.
Top scientists and doctors have clinically tested this product, so it effectively improves your overall health. This probiotic comes with a money-back guarantee if you are not satisfied with any aspect of the product. The manufacturer also offers free shipping on orders over $25, making this product even more affordable than other similar products.
Pros
Cons
7) GNC Probiotic Complex
GNC Probiotic Complex is an all-in-one formula that helps improve gut health and the digestive system by providing you with the best probiotics. It contains 12 billion live bacteria per capsule, which helps in improving your immune system and overall digestive health. Its ingredients are 100% natural and do not have any side effects on your body.
The formulation also includes vitamin K and vitamin D3 to support bone health, vitamin A for vision support, vitamin E for eye protection, selenium for immune function, zinc to support the immune system, and more. It's one of the most popular supplements on the market today, and it's used by thousands of people every day.
The capsules are easy to take with you on the go or even keep at home if you want to take them on an as-needed basis. This formula is designed for adults over 12 who have a healthy digestive system and are looking for a supplement that can help support their immune system.
Pros
Cons
5 Things To Consider When Buying Probiotics For Gut Health
The gut is an incredibly important part of the human body. It's where food is broken down and absorbed into the blood, nutrients are moved throughout the body, and all sorts of other essential functions occur. The gut microbiome is also responsible for many things that we wouldn't necessarily think of as related to health — but they are.
The microbiome helps us digest our food and absorb nutrients from it, but it also has a hand in regulating our immune system and keeping us healthy overall. That's why having a healthy microbiome in place is important if you want to be at your best. But what does that look like? How can you get one? Here are five things to consider when buying probiotics for gut health:
Probiotics are not a one-size-fits-all solution. Only you know your personal gut health goals, so do some digging before you decide on a specific probiotic formulation.
Research the product's ingredients, and don't be afraid to ask questions about them! You may find that some of the ingredients in a product are questionable or even dangerous for your health in high doses.
Look for probiotics proven to work in clinical trials. This is important because it ensures that you get the benefits of a particular strain without any potential side effects or risks.
Beware of products that claim to "boost" your immune system when they don't contain any probiotics! These claims should be avoided at all costs because they can lead to serious health problems like food poisoning or even death if taken at high doses over time (the dose is not just how much you ingest, but also how long you take it).
Don't buy from companies that do not disclose their sourcing or manufacturing methods for their probiotics — this is important because these factors can affect the quality of their products.
FAQ Related to Probiotics
As a first-time buyer, we are sure you will have many queries or doubts concerning probiotics. Keep this in mind; we have created this wonderful section in which we will discuss in detail all the most popularly frequently asked questions(FAQ) related to probiotics.
There are mainly two types of bacteria found naturally in your body-good or bad. Yes, you heard it, right? There is something called "good bacteria" too. Probiotics are nothing but bacteria (live microorganisms) that can ensure the well-being of your body. Do you know the word "probiotic" literally means "for life"?Probiotics are very efficient in synthesizing crucial nutrients. In addition, good bacteria promote the proper functioning of the immune and digestive systems. They balance the gut microflora.
Yes, several foods (or drinks) such as yogurt, kefir, miso, traditional buttermilk, cottage cheese, feta, sour cream, garlic, onions, soy milk, celery juice, herbal teas, etc. contain probiotics.
Absolutely, yes. You might be wondering why. Then, you should understand that probiotics get drained from your body regularly (thus taking away all the benefits you may have experienced from it). Thus, it's highly significant for you to consume them regularly for maximum intestinal health in the long term( not just for the short term).
Yes, no doubt people belonging to all age groups can take probiotics for their overall health and well- being. Newborn babies can reap a lot from regular probiotics as it will help maintain the health of their immature immune system. Right from birth, the gut microflora of the baby starts to grow; with the intake of probiotics, you can ensure this process occurs efficiently or smoothly. For young teens, probiotics are recommended for a healthy intestine.
The answer is a big No, and there is no possibility of overdose. At the same time, you must keep in mind that if you don't consume your probiotics, you will not see much improvement in your digestive and immune health. Many probiotic companies have devised unique delivery formats to ensure you never forget to consume them regularly properly.
Because of the regular use of probiotics, you will positively affect your immune, digestive, vaginal areas, and respiratory systems. Note that you will start seeing noticeable improvements in just a few days if you have a weak or compromised immune system. If your health has been totally good, then with the intake of probiotics, you may not experience any noticeable effects immediately. However, be assured that even if you are completely healthy, probiotics are recommended to prevent various health issues in the long run.
Research shows that intake of antibiotics can cause a negative imbalance in the gut microflora. Therefore, taking probiotics after one or two weeks of antibiotic therapy is highly recommended.
Maximum pregnant women face a lot of digestive issues. If you feel that probiotics are unsafe for pregnant women, then your notion is wrong. On the other hand, probiotics can help to elevate immunity and digestive health as well as ensure the good health of both the expected baby and the mother.
Research shows that people start experiencing the positive effects of 1-40billion bacteria /day intake. Other factors on which optimum daily intake depends; are- Type of probiotic blend and the Outcome desired. You can recommend the dose mentioned on the supplement's packaging to find out what the daily dose should be.
In simple words, bad bacteria or pathogens are the causes of diarrhea as they release harmful toxins into the body. What probiotics do is that they simply fight against the bad bacteria or pathogens, thus curbing the further release of toxins in your body. In this manner, probiotics can help in treatment as well as prevention of diarrhea.
Yes, undoubtedly, if you are a traveler, that too if you are going to travel to third world countries, then it's critical to do something to protect yourself from the pathogens that may lead to diarrhea. We advise you to take probiotics three to five days before leaving and for two weeks after returning home. Also, don't forget to take probiotics during the trip too.
Yes, you should refrigerate them properly as this will help to ensure potency in the long term. However, several probiotic strains can be stored even at normal room temperatures.
No, rarely do they have any side effects. It is interesting to note that the test groups which report side effects are found to be lower than 1%.
Reputed brands always mention clinically proven levels or strains on their packaging. You should always buy probiotics that follow this guideline of mentioning all details about strains on their packaging.
When buying a dietary supplement especially, you should consider the following things in mind-

Always Buy Probiotics Which Are an Amalgamation of Different Strains: Studies show that if you want to target multiple health conditions, consider buying probiotics containing different strains such as Bifidobacterium, Lactobacillus, and Saccharomyces.

Always Check the Labels: You must check the ingredient list on the probiotic packaging beforehand. Reputed probiotic companies always list strains of the probiotics present and their receptive origins.

Always Check Whether It's Sugar-Free: The health experts always suggest making use of sugar-free probiotics. The reason being bad bacteria thrives on sugar; that's why probiotics that contain sugar completely smash the objective of using a probiotic.
If you have experienced a change in your digestive symptoms after taking antibiotics or other medications, or if you have long-term digestive problems such as lactose intolerance or irritable bowel syndrome, you may benefit from probiotic supplements. The best way to determine whether probiotics could help is to talk with your doctor about it.
The health benefits of probiotics are similar to those of prebiotics. Prebiotics are non-digestible carbohydrates that promote the growth of beneficial bacteria in the gastrointestinal tract (GIT). Probiotics are a form of live microorganisms that are used to supplement your diet as a way to improve health. Probiotics can be found in foods and supplements but are also available as dietary supplements.
Let's Wind Up
In summary, probiotics are great for digestion, intestinal function, and general gut health. The next time
you find yourself with a stomach ache or fighting off a cold, try taking probiotics to reduce your symptoms
and prevent future illness. And be sure to grab some fermented food from your local market to keep your
probiotics levels healthy. Did we miss something, feel free to connect with us via the below comment
section.